I'm new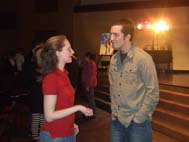 Welcome!
We wanted to take a moment to thank you for checking us out. We don't know if you attended one of our groups, came to The WELL, or just surfed the web for a church in the Kitsap area and landed here. Whatever the case, you can be sure that there is a God who loves you and that the guys and girls here are worth getting to know.
If you are looking for a place to connect with young people who are serious about living life to the fullest and impacting the
Kitsap
Peninsula
, by all means, continue to explore the website and join us as we follow Jesus!