Water Baptism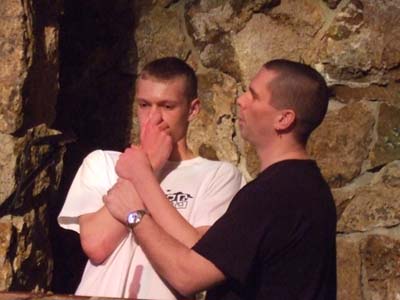 Baptism is an important step in your journey as a follower of Christ and an outward symbol of the work He has already done in your life. The Bible paints a beautiful picture of baptism as our identification with Jesus in His death, burial, and resurrection. When you make the decision to accept Christ as your Savior, the Bible says that your old way of life is dead, and you are beginning a new life with Christ.
Accepting Christ as your Savior means you believe that Jesus Christ died on the cross for your sins and that by His death and bodily resurrection, He bridged the gap between you and God for all time.
Baptism doesn't make you a believer - it shows that you already believe. Baptism does not "save" you, only your faith in Christ does that. Baptism is like a wedding ring - it's the outward symbol of the commitment you make in your heart.
Full-immersion baptisms take place in our Sunday worship services upon request. If you are interested in being baptized, please contact
Lela Wessner
to schedule a time to talk about baptism.

"We were therefore buried with him through baptism into death in order that, just as Christ was raised from the dead through the glory of the Father, we too may live a new life." -Rom 6:4 (NIV)